By Ola Ajayi
IBADAN—SOME aggrieved chieftains of the Peoples Democratic Party, PDP, in the South West who were absent from a parley organised at Enugu between governors and the aspirants for the national chairmanship of the party have faulted the meeting, saying party members in only 11 states of the country attended.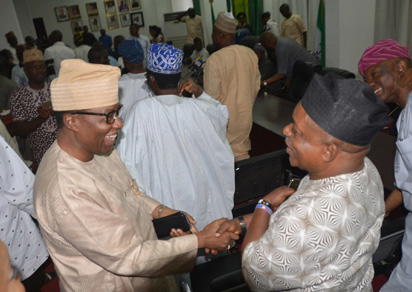 The meeting, they said, was not representative of all aspirants for the national chairmanship of the party.
Speaking on behalf of the aspirants, Chief Akintayo Akindeko, who is from Ondo State said the parley could be best described as that of a faction of the PDP.
He said: "The PDP Governors' parley of that day clearly represented party members in only 11 states and excluded our members in 25 other states. It also excluded PDP members in five of the six states of the South West zone to which I belong. No matter how illustrious or powerful, the governors' parley of that day qualified as a faction of the PDP.
"In as much as the motive of the party is to reconcile different factions in the party, it did not make any sense that they should attend such a factional meeting."
The party chieftains added that owing to the fact  that they cherished the on-going reconciliation, they decided not to attend the Abuja meeting of select  party members, which held the penultimate week with Professor Jerry Gana
"We believe passionately that reconciliation of the party must begin now before the election takes place, if only to ensure that there will be no victor and no vanquished amongst our illustrious leaders after the elections. We are therefore still very much in the PDP chairmanship race," he said.
They called on the national leadership of the party to ensure that other aspirants for the PDP national chairman in these 25 states across the country are not shut out.
Those contesting for the national chairmanship of the party from the South West include, Chief Akintayo Akindeko, Senator Rashidi Ladoja, Prof Taoheed Adedoja, Chief Bode George, Otunba Gbenga Daniel and Prof Tunde Adeniran among others.
NNN.COM.NG is a portal where you can read latest Nigeria News from all Nigerian Newspapers such as such as Punch, Vangaurd, Daily Times, Thisday, Guardian, Nation, Leadership and more, in just one place. NaijaNews aggregates Nigerian News Today and sort them according to their sources, category and relevance as a way of reducing the effort a news reader needs to put in to reading breaking news in Nigeria and across the world.